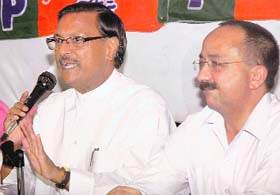 The central parliamentary board of the Janata Party has decided to extend support to Satya Pal Jain, BJP candidate. This was stated at a joint press conference by Jain and Ajay Jagga, president of the local unit of the Janata Party.
Jagga alleged that the Congress had failed to deliver on all fronts, including extension of lal dora, land acquisition and proper planning for the city.
Jain said instead of joining BJP prime ministerial candidate LK Advani in a debate, the Congress was trying to evade major issues and was objecting to Manmohan Singh being termed as a "weak" PM, terming it as denigration of the office of the Prime Minister.
The points raised by Mr Ajay jagga in the conf. are as under
Change is universal as Barack Obama's win in USA has set the pattern of change.
Dr. Subramanian Swamy, President JANATA PARTY, in response to BJP's letter seeking support from Chandigarh Unit for Sh. Satya Pal Jain, has authorized me to extend the support of Janata Party to Satya Pal Jain. Apart from Chandigarh, in Tamil Nadu also our Party is extending support to BJP.
UPA government led by congress has failed to check the continues rise in prices of food and other essential commodities, which has created an insecurity about food for the common man.
Slogan "Jai Ho" given by the Congress sounds funny as number of our people who cannot eat two square meals a day is increasing. .
Amazing situation Inflation Falling and prices are rising
75% of India spends less than Rs. 20 per day.
AT present almost 60/- rs. are required per day for a family of 4/5
Does this mean that families are not eating two meals in a day.
According to a report, at the retail level in Delhi between March 2008 and March 2009
sugar went up by 47 per cent
and
onions by a whopping 111 per cent.
Crude oil prices at International level had come down from around 130 dollars a barrel to less than 40 dollars a barrel but the UPA govt. led by cong failed to give any relief to Indian consumers.
Statistics of other price rise
Item Price in 2004 Price in 2008 % increase
LPG Rs. 241.49 Rs. 300 plus Above 24%
Diesel Rs. 21.7 per litre Rs. 34 plus Above 56%
Salt Rs. 7 per kg Rs. 10 per kg Above 42%
Rice Rs. 13 per kg Rs. 19 per kg Above 46%
Wheat Rs. 8 per kg Rs. 13 per kg Above 62%
Atta Rs. 9 per kg Rs. 14 per kg Above 55%
Groundnut
Oil Rs. 85 per litre Rs. 122 per litre Above 43%
Milk Rs. 15 per litre Rs. 20 per litre Above 33%
Petrol Rs. 33.7 per litre Rs. 50+ per litre Above 50%
A 76 per cent of the total population is suffering malnutrition due to not enough food available.
Special economic zone act is nothing but creating of foreign territory within India, where hardly any tax laws of India are applicable. Includes I.T.Park
VAT
The UPA Govt has handled the VAT in a total absurd manner, the paper work has multiplied. The system is not bad but the way it is being implemented is shocking. The number of pages in VAT return is around 4 to 5 whereas under old system this use to be one page. Attachements are tremendous, wastage of paper is big blow to environment. The slogan is that tax structure will be same throughout India but it is not visible anywhere in India .
Income Tax
The replacement of SARAL is new series of ITR forms which has replaced the one page return into two pages (for salary class persons) seven pages for (salary and other incomes except business and prof.) and 21 pages for professional and business income returns. So overall it is wastage of paper, destruction of environment and overall a harassment for the common man.
Regarding Ram Setu the attitude of the UPA govt has been extremely irresponsible, as they had submitted an affidavit, which they withdrew later.
Even their ally DMK has issued such irresponsible statements. The CM of tamil nadu Sh. M.K has gone on issuing irresponsible statements such
At local level the MP Sh. Bansal has been in the best position, i.e.
Remained MP for almost 15 years
At the centre UPA Govt was led by Congress
He is MP from congress
He was a minister in the Cabinet
Even the local MC is headed by Congress
The ministry which Mr. Bansal was heading in Finance was Banking & insurance and banking is at its worst, as threat to people by bankers is the new scandal.
If inspite of all this, issues in Chandigarh remained pending such as land acquisition, lal dora regularization, planning of the city, then it means change is required.
So it calls for a change in Chandigarh , as well as at the central level. Last time people voted for change and I am sure even at this time people will go for change and Mr. Jain will be victorious.